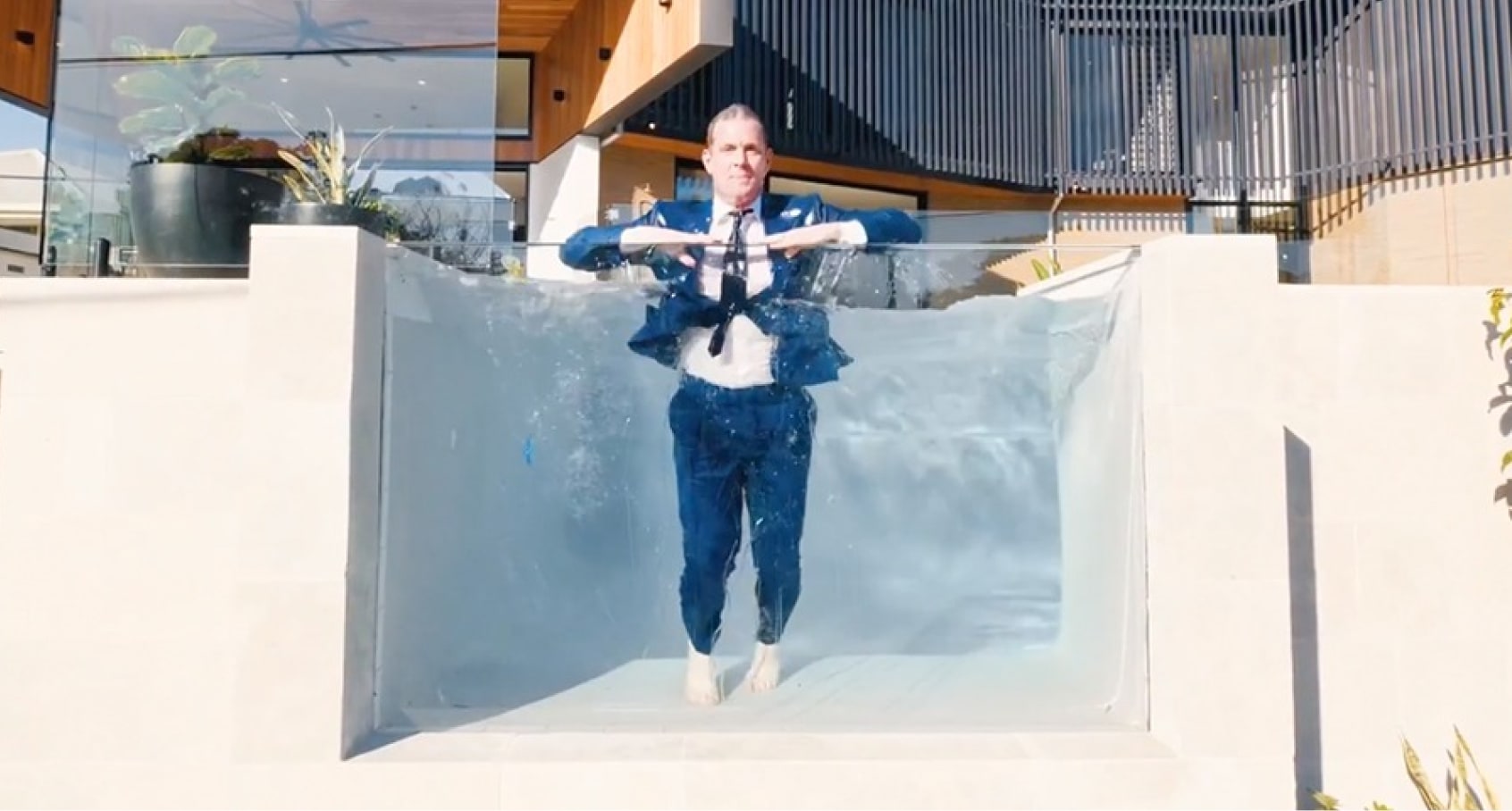 How agent Matt Lancashire creates the best video content in the game
Matt Lancashire must dread his dry-cleaning bill. In recent months the Ray White New Farm principal has dived into a swimming pool fully clothed and powered across Brisbane River on a jetski, decked out in a suit and tie. But ask him if his efforts to create attention-grabbing video content are worthwhile and he'll give you a resounding yes.
"We're seeing really amazing results coming from it," he told Domain. "Videos are certainly getting a lot of traction out there. Some of our videos have had 200,000 hits."
The jetski was introduced to market 39 Griffith Street New Farm, a high-end riverfront property that sold at auction in March for $7.75 million, equalling the Brisbane city record.
Two of the eight registered bidders hailed from the Gold Coast and found the listing video on social media.
"We ended up having 54 social media inquiries wanting to know the price guide," says Lancashire. "Every medium has its role. I think print still has a massive role, people think it's dying but I'm not seeing that, we're seeing increasing numbers at opens that found us in print. But social media is the way of the future, and if you're not on board now you'll be chasing the market."
Like many agents, Lancashire started out about two years ago doing his own videos but has now progressed to using professional outfits to lift the quality of his content.
"I got really serious in the last 12 months and engaged a company called X Media who do all my videos and vlogs and they are just next-level with the way they do the editing," he says. "We'll have a brief before we storyboard it, we'll work out who the purchasers are, what the demographic is and how we're going to target them. It's a really strategic platform we run to get the greatest exposure and engagement."
Lancashire says his decision to embrace social media was cemented last July after attending Inman, a residential real estate conference held in America and attracting over 4000 industry leaders.
"My key take-homes were the importance of educating the market, both buyers and sellers, and that video content is the way to go to get maximum engagement with clients."
Lancashire says it takes time and patience to build a social media following. He says his New Farm office claims 22,000 followers on Instagram and his own following is growing by up to 300 people a week and now sits at 6200. Staff also have access to the office database, which boasts an astonishing 86,000 entries covering potential buyers, sellers and anyone who has expressed an interest in the property market.
Rather than ad hoc posts, Lancashire's weekly schedule includes three hours of filming with X Media. He's currently in the process of finalising a seven-part series on what to expect when selling your home, which will include "all the little things a vendor would like to know".
While it's an educational series, Lancashire agrees that it also helps to raise the agency's profile.
"We focus on getting the best price for our vendors, but once you're getting those results, you become an attraction business," he says.
Here are some of Lancashire's tips for creating videos that add value to
your business
1. Focus on leads not likes.
"Leads are the life-blood of real estate. We measure the success of our social media campaigns by the number of leads [name and contact details] we get. The highest amount of leads I've ever had was about 85 … but if I get just one very good, qualified lead which gives the vendor an opportunity for a higher price for their property, that's a successful campaign."
2. Keep your videos short and not too wordy.
"Our videos are 45 seconds to one minute max – we believe you can say enough about a property in that time to get maximum exposure."
3. Don't give away too much.
"You want to include the best-selling feature of a property but you don't want to show too much or buyers won't feel the need to come to an open home."
4. Lift your game on camera.
"We try to do something that's a little edgy and different that draws attention."
5. Go beyond state borders.
"Videos are a crucial component for our buyers in Sydney, Melbourne and the international market who will make a decision on whether to come and look [at a property] based on what they can see." Lancashire says six of his 19 property transactions in the March quarter were with buyers who lived interstate or overseas, while in the December quarter eight of 16 buyers were from out-of-area.
6. Don't saturate your feed.
"Content is king, but you don't want to annoy your followers."