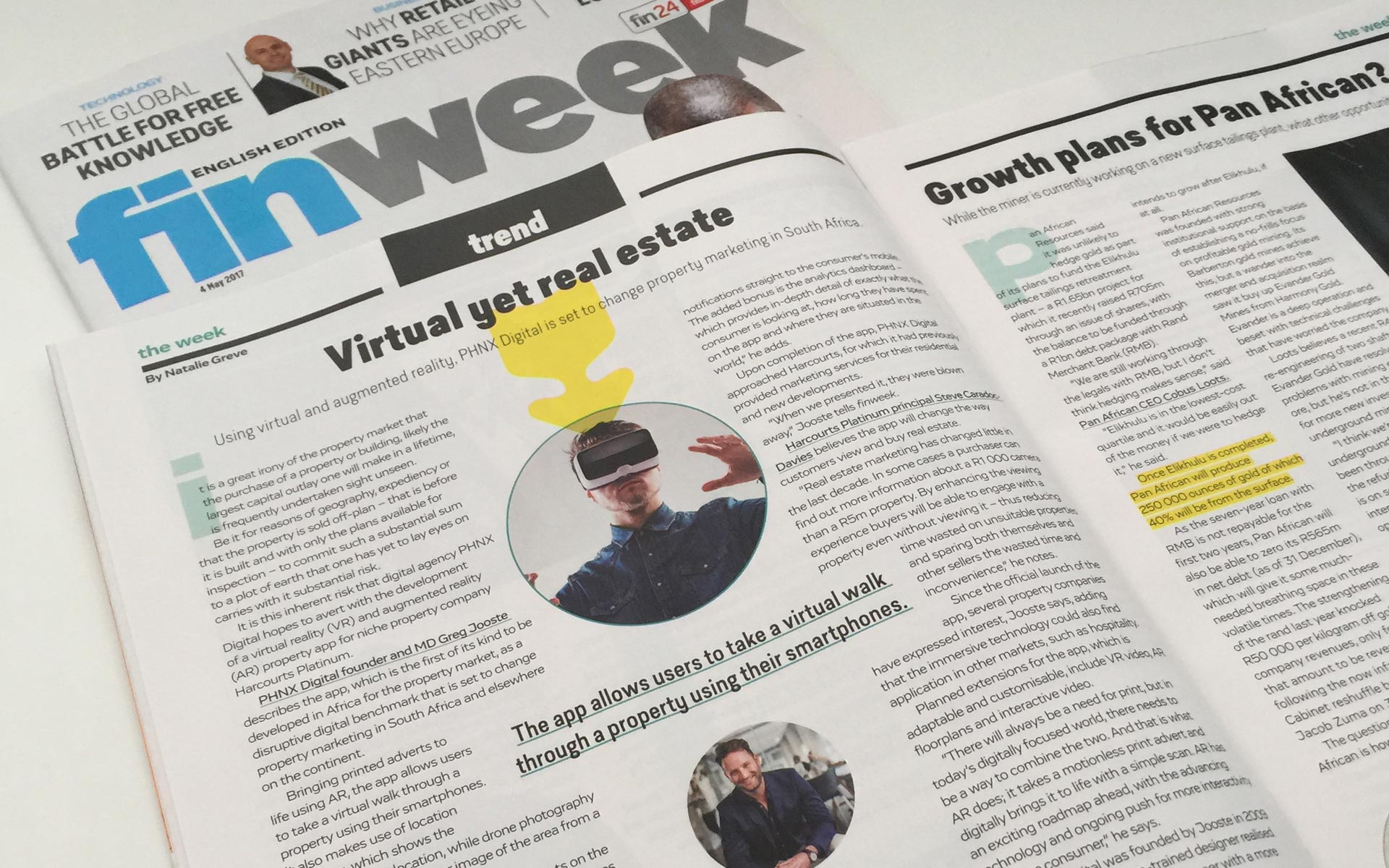 Using virtual and augmented reality, PHNX Digital is set to change property marketing in South Africa.
It is a great irony of the property market that the purchase of a property or building, likely the largest capital outlay one will make in a lifetime, is frequently undertaken sight unseen. Be it for reasons of geography, expediency or that the property is sold off-plan – that is before it is built and with only the plans available for inspection – to commit such a substantial sum to a plot of earth that one has yet to lay eyes on carries with it substantial risk.
It is this inherent risk that digital agency PHNX Digital hopes to avert with the development of a virtual reality (VR) and augmented reality (AR) property app for niche property company Harcourts Platinum.
PHNX Digital founder and MD Greg Jooste describes the app, which is the first of its kind to be developed in Africa for the property market, as a disruptive digital benchmark that is set to change property marketing in South Africa and elsewhere on the continent.
Bringing printed adverts to life using AR, the app allows users to take a virtual walk through a property using their smartphones. It also makes use of location mapping, which shows the building's exact location, while drone photography is used to capture a clear image of the area from a high vantage point.
Hovering over the interactive hotspots on the map provides immediate street views, addresses and contact details. These hotspots are marked and categorised using Google Maps technology.
"VR is a powerful tool in property, especially when selling off-plan. It depicts a photo-realistic vision of a furnished property and allows prospective buyers to envisage their ideal lifestyle in a home that is still to be built, as well as creating a completely immersive experience for foreign investors," comments Jooste.
"Whether it's viewing an AR 3D building through interactive print or virtually standing inside a future home, the app will transform the way real estate professionals build and sell properties."
The app also allows users to receive push notifications on new listings and allows them to make an enquiry from their phones, directly to the agent.
After a potential customer has downloaded the app, an additional channel of communication between themselves and the company is thus created.
"In addition to the current use of email and SMS communication, marketers can now send push notifications straight to the consumer's mobile. The added bonus is the analytics dashboard – which provides in-depth detail of exactly what the consumer is looking at, how long they have spent on the app and where they are situated in the world," he adds.
Upon completion of the app, PHNX Digital approached Harcourts, for which it had previously provided marketing services for their residential and new developments.
"When we presented it, they were blown away," Jooste tells finweek.
Harcourts Platinum principal Steve CaradocDavies believes the app will change the way customers view and buy real estate.
"Real estate marketing has changed little in the last decade. In some cases a purchaser can find out more information about a R1 000 camera than a R5m property. By enhancing the viewing experience buyers will be able to engage with a property even without viewing it – thus reducing time wasted on unsuitable properties and sparing both themselves and other sellers the wasted time and inconvenience," he notes.
Since the official launch of the app, several property companies have expressed interest, Jooste says, adding that the immersive technology could also find application in other markets, such as hospitality.
Planned extensions for the app, which is adaptable and customisable, include VR video, AR floorplans and interactive video.
"There will always be a need for print, but in today's digitally focused world, there needs to be a way to combine the two. And that is what AR does; it takes a motionless print advert and digitally brings it to life with a simple scan. AR has an exciting roadmap ahead, with the advancing technology and ongoing push for more interactivity from the consumer," he says.
PHNX Digital was founded by Jooste in 2009 after the 3D animation-trained designer realised that he wanted to pursue a career with a more customer-centric approach.
"I realised that sitting in a dark room making a character's hand wave on a screen isn't what I wanted to do; I wanted more customer interaction. I basically taught myself [how to design apps]," he says of his motivation to establish the agency.
Now with 20 employees, PHNX Digital has offices in Cape Town, Johannesburg and Brisbane, and will soon establish bases in Durban, Sydney and Melbourne.
The app allows users to take a virtual walk through a property using their smartphones.